Voluntary and Involuntary Dissolution of a Florida Corporation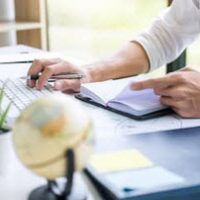 A corporation is a legal entity with its own rights, privileges and liabilities that are separate from the members who created it.  As such, a corporation is viewed as a separate entity (almost like an individual) in the eyes of the law. The individuals who are the shareholders to the corporation own the profits and the losses of the entity.  The formation of a corporation starts with filing a certificate of incorporation and paying an entity formation fee.  After the entity becomes active, the state permits it to operate under the purposes for which it was started.  A similar process applies when the owners of a corporation seek to dissolve it. There are two main ways shareholders can seek to dissolve a corporation as discussed below.
Voluntary Dissolution
Administrative or voluntary dissolution of a corporation mirrors how a corporation is started.  It is formal in nature with form filling and a filing fee involved.  The first step in dissolving a Florida corporation is to file articles of dissolution. The articles of dissolution seek to collect vital information about the corporation including the date of dissolution, notice to interested parties, and whether the shareholders have approved the dissolution. The form is filed along with a fee of $35.00 for the processing of the document.  Here, the state creates a formal process whereby the company gives notice to the world that they are no longer operating as a business entity. The process can be completed by mail or online.
Involuntary Dissolution
Similar to other states, Florida permits involuntary dissolution of corporations.  According to Florida Statute 607.1430 (Grounds for Judicial Dissolution), a corporation is involuntarily dissolved when a court renders the corporation as dissolved through judicial action. Specifically, this action may be taken by a circuit court and that court may also render any such judicial remedy that it sees fit as a result of the dissolution.  The statute sets forth certain instances where the court may voluntary intervene to dissolve the business or where a shareholder may evoke judicial dissolution. The two criminal reasons for a court to intervene are when a corporation obtains its articles of incorporation through fraud or when the corporation abuses its authority conferred upon it by law. Other stated grounds are not of the illegal sort, but are set up to oversee the business dealing of Florida corporations. These instances include when shareholders face a voting or management deadlock or where the corporation's assets have been misapplied or wasted.
Fort Lauderdale Business Law Attorney 
Hiring an attorney for your business formation and dissolution activities ensures that you have a legal advantage.  If a dispute arises, an experienced and knowledgeable attorney can guide you through your options and keep you informed of your rights whether you choose the judicial or administrative route. Attorney Brendan A. Sweeney is a business law attorney with years of experience advising on business dissolution and formation issues.   Contact us for a consultation.
Resource:
dos.myflorida.com/sunbiz/manage-business/dissolve-withdraw-business/efile-corporation-dissolution/
https://www.sweeneylawpa.com/lost-future-profit-claims-in-florida/