The Legal Consequences of Failing to Check Utility Lines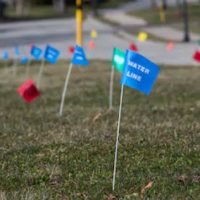 All new building construction projects require some sort of excavation to set the foundation for the building. Excavation requires digging beneath the earth's surface to accomplish the task. Contractors and owners who are engaged in such a construction project must ensure that they are aware of the utility lines that lie below the surface. All states have a state or locally run agency to help builders discover utility lines. Contractors who failure at this step may be in store for administrative and legal consequences.
Legal Penalties for Damage
One consequence is causing damage to preexisting utility lines due to a failure to discover the lines or improper discovery.  Damage to city or county utility lines comes with a monetary penalty and possible criminal charges depending on the purposefulness and severity of the damage and the number of residents it affects.  The digger also risks being sued by other parties who are affected by an outage.  In fact, digging without determining the utility lines can be quite costly of a contractor and the owner of the building project.  There are other spillover consequences that can affect parties who are in no way affiliated with the construction project.
Contractual Disputes for Lack of Utility Lines
Building without checking utility lines also has direct consequences for the construction project. If there are not adequate amounts of lines for the various purposes required (sewage, water, electrical), the building may not operate as intended.  More importantly, any efforts to extend utility lines to the building will require additional time, money, and resources which will extend the project schedule and increase costs.  All of these unintended consequences can cause a contractual dispute between the contractor and the owner of the project. It is also possible that such an issue can land the parties in litigation proceedings. That is because damage to underground utilities is enforced under Florida Statutes Chapter 556, known as the Underground Facility Damage Prevention and Safety law.
How to Discover Utility Lines in Florida
The state of Florida has made it is simple to discover utility lines before commencing a construction or excavation project. The Florida Public Utilities agency has established a hotline for individuals who need utility line services.  The service people who monitor the hotline will send experts to the given construction site to make the necessary determinations.
Fort Lauderdale Construction Law Attorney
Fort Lauderdale construction attorney Brendan A. Sweeney has years of experience advising professionals in the construction field by helping them eliminate cost and lessen the chances of litigation. Sweeney Law is here to guide you through legal pitfalls that can arise as a result of a failure to conduct a utility line search. Contact us now for a consultation.
Resource:
fpuc.com/naturalgas/safety/811-before-you-dig/
https://www.sweeneylawpa.com/the-essentials-of-performance-bonds/