Steps to Permitting a Home Construction Project in Florida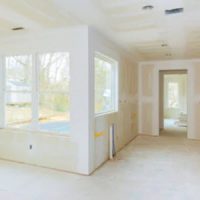 Homeowners who are thinking of remodeling their home or starting work on an addition do not usually think of the permitting process.  Depending on how large the construction project, the contractor must seek permission from the local agency before beginning construction.  Homeowners must rely on the experience of their contractors to obtain the proper permits for the specific project.  Failure to permit a home construction project can lead to fines and other civil penalties.
Application Process
The first step in obtaining a permit is to complete the Florida building permit application.  Depending on how large or extensive the project, the permitting agency will require a site plan.  A site plan is a professionally drawn blueprint laying out the project and the work to be constructed. The site plan must provide adequate information to show that the proposed construction is in line with state building and zoning codes.
Review Process
After submitting the application, the owner and/or contractor of the project must schedule an appointment with the permitting agency for a plan review.  Depending on how complex the project, the permitting agency may conduct a review that takes less than an hour or the review can take several days or even weeks.  If the permitting agency discovers errors or areas of concern, the process can draw out.
Project Process
The law requires that the contractor obtain the permit before any construction commences. This is a strict rule and one that contractors should not gamble with.  After the review (whether the review takes a few hours or a few weeks), the permit will be granted or denied.  The permitting agency will have an appeals or reconsideration process for the denied permits. In this circumstance, agency will make some recommendations on items that require rectification. The errors must be remedied on the site plan before a permit can be issued.  During the course of the construction project, the permitting agency can choose to schedule inspections to ensure the builder's compliance with the approved plan.  After the project is completed, the agency will review the construction and make a final approval.
Let Us Help You Today
Fort Lauderdale construction attorney Brendan Sweeney is well-equipped to guide you through the construction permitting process and to ensure that you are compliant with your site plans. Compliance will decrease your liabilities and exposure to potential litigation. Sweeney Law is highly experienced in the processes and will guide you.  Contact us now for a consultation.
Resources:
floridabuilding.org/fbc/commission/FBC_0415/Commission_Education_POC/701/701-0-MATERIAL.pdf
broward.org/Building/BuildingPermits/Pages/BuildingPermits.aspx
https://www.sweeneylawpa.com/arbitration-clauses-in-construction-contracts/