Special Laws Govern Construction Related Venue Provisions in Contracts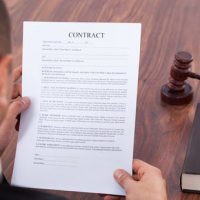 In a business or a construction contract, your agreements may look like they have covered all the bases. But have you thought of where a lawsuit would be filed, if your construction contracts need to be enforced (or where a lawsuit would be filed, if it was filed against you)?
This question may be obvious, and if both contracting parties are in Florida, it may not even be an issue, as jurisdiction for a court could only be in Florida where both parties reside (are headquartered) in Florida, and where the contract was executed and performed in Florida.
Parties in Different States
But as we all know, we live in a national economy, and in many cases, parties to a contract are located in different states. If you are a Florida company, you may not want to be hauled into court in another state if you are sued, nor would you want to have to file a lawsuit in another state if you were the one suing.
A choice of venue provision is normally used in business contracts, and venue provisions are generally enforceable, so long as they are clear. Venue provisions need to be written in mandatory language—saying a lawsuit "may" be brought in Florida may not be strong enough. A venue provision would have to say that any action to enforce a contract "shall" be brought in Florida (or whatever state you want the case brought in).
Construction Law Differences
But here is where construction law and business law diverges. Whereas, in a business law context a venue provision is enforceable so long as it is clear, unambiguous, and the parties have agreed to it, Florida law has a specific statute that deals with venue provisions in construction contracts.
Florida law clearly makes any choice of venue provision in a construction contract that requires litigation out of state, void. The law says that the lawsuit can only be brought wherever the defendant (the party being sued) resides, where the breach of the construction contract occurred, or where the construction project or property being improved upon, is located (unless the parties both agree to an alternative location).
This means that parties to a construction agreement have little ability to choose their venue in their construction contracts.
Choice of Law
However, there is still the ability to choose the law applied by the court. For example, if the parties contractually chose to apply the law of a different state, as a general rule, that provision would be applicable, even though Florida law would require the lawsuit to be filed in Florida.
It's also worth noting that Florida's venue provision is only applicable to contracts involving the construction project itself (improvements to real property). Other lawsuits, such as worker's compensation, personal injury, employment cases, or contracts that are unrelated to actual construction, would follow the normal, non-construction law venue laws.
We can help you enforce your construction contracts, or defend against any construction law related lawsuit. Call our Fort Lauderdale construction attorneys at Sweeney Law P.A. at 954 440-3993 for a consultation.
Resource:
scholar.google.com/scholar_case?case=12698262931756119697&q=sachse+v.+affirmed+drywall&hl=en&as_sdt=40006
https://www.sweeneylawpa.com/avoiding-permitting-violations/