Implied Warranties and the Spearin Doctrine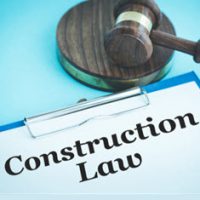 Contractors are held to an unspoken standard for their workmanship.  These standards are not stated explicitly in contract, however, they are general sets of rules that the contractor guarantees to the owners of the construction project.  There are a number of warranties that can become implied into a construction contract including the warranty of good workmanship, which guarantees that a structure will be built in a professional manner and will comply with acceptable building standards.  Likewise, another implied warranty is the warranty for fitness of particular use, which guarantees that the structure being built will be fit for the purpose contemplated under the construction agreement.  However, what happens when an implied warranty shifts to the owner?  The issue of an owner's implied warranty was addressed in the 1918 Supreme Court case of U.S. v. Spearin.  The holding in this seminal case augmented the way implied warranties function in the owner-contractor relationship.
U.S. v. Spearin  
In Spearin, a contractor agreed to build a dry-dock in a Navy Yard in accordance to plans prepared by the government.  The contractor built the dry-dock meeting the specifications required in the government's plans.  The dry-dock was accepted by the government.  Due to a specification error, the dry-dock subsequently gave way to a burst of back waters flowing from a dam.  The contractor declined to rectify the issue unless the government paid the contractor to proceed accordingly.  The owner argued that the contractor was to build the structure to consider the dam even though those specifics were not noted by the owner.  The Court disagreed with the owner and held that the owner impliedly warrants the information, plans and specifications which an owner provides to a contractor.  As a result, the contractor was not liable to the owner for loss as a result of the defects present in the owner-provided plans.
The Spearin Doctrine
The outcome of the U.S. v. Spearin became known as the Spearin Doctrine. This ruling put the onus on the government to create sufficient and accurate plans.  In effect, it created an implied warranty on the side of the government to provide plans devoid of defects.  In other words, the government, in creating its plans, cannot impute superior knowledge onto the contractor.  
Contact Us Today for Help
Fort Lauderdale construction lawyer Brendan Sweeney has years of experience advising clients on warranties in the realm of government construction work.  He is highly experienced in this area to guide you through the issue of who bears the cost for fixing construction defects.  Contact the office now for a consultation.
Resource:
law.cornell.edu/wex/implied_warranty
https://www.sweeneylawpa.com/construction-liens-against-condominium-property-in-florida/