Employment Agreements and Restrictive Covenants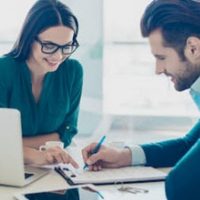 Contracts are made up of promises. For example, one party to a contract may promise to do some type of work while the other party promises to pay for that work. The promises on both sides are referred to, in law, as covenants. Most often, contractual covenants require one party or the other to affirmatively act in a certain way. However, there are also covenants that require one party or another to refrain from acting in a certain way. These covenants are known as restrictive covenants.
When Are Restrictive Covenants Used? 
Restrictive covenants can be contained in a variety of contracts that govern business relationships. One typical use of restrictive covenants is in the employment context. A restrictive covenant contained in an employment contract may restrict an employee's ability to compete with his or her employer if and when the employment relationship is terminated.
Other business relationships in which contractual agreements containing restrictive covenants may be used include:
an employer and an agent, or independent contractor
a manufacturer, principal, franchisor or licensor and distributors, dealers, franchisees, or licensees of trademarks or service marks
buyers and sellers of businesses
(Note that under certain circumstances, Florida law contains a specific provision that prohibits the use of  restrictive covenants in physician employee contracts).
Often, restrictive covenants tread the line between allowing for free, fair and open competition and protecting legitimate business interests. The Florida legislature has specifically addressed this concern, providing some guidance for determining when restrictive covenants are valid, and when they are not.
When Are Restrictive Covenants Valid? 
Under Florida law, restrictive covenants are generally enforceable as long as they are reasonable in terms of:
Time
area, and
line of business.
When and whether the restrictions imposed by a restrictive covenant are reasonable will be determined by the courts on a case by case basis.
Generally, it is up to the party seeking to enforce the restrictive covenant to establish the existence of one or more "legitimate business interests" that justify enforcing the restrictions. Some examples of "legitimate business interests" are:
protecting trade secrets and other valuable business or professional information
protecting relationships with specific future or existing clients and customers
protecting goodwill associated with an ongoing business based on its trade name, trademark, etc., its location, or a specific marketing or trade area
In addition, the party seeking to enforce the covenant must show that it is reasonably necessary to protect a legitimate business interest. If a court finds that a restrictive covenant is unnecessarily broad, lasts too long or is otherwise not reasonably necessary to protect a legitimate business interest, the court may modify the covenant in some way in order to make it less restrictive.
Restrictive covenants should be carefully considered and constructed to maximize protection of legitimate business interests while also satisfying the reasonableness bar that is imposed by the law. If you are operating a business in the Fort Lauderdale area and would like to know more about the use of restrictive covenants in business contracts, contact an experienced Fort Lauderdale business lawyer at Sweeney Law.
Resource:
leg.state.fl.us/statutes/index.cfm?App_mode=Display_Statute&URL=0500-0599/0542/0542.html
https://www.sweeneylawpa.com/avoiding-trademark-infringement-when-opening-a-new-business/