ATTORNEY'S FEES & CONTINGENCY FEE MULTIPLIERS IN FLORIDA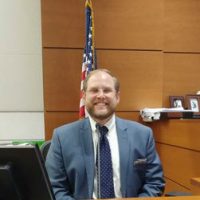 One of the most critical factors in engaging in litigation in Florida is whether or not the prevailing party is entitled to attorney's fees. Prevailing party attorney's fees will allow the prevailing party to be reimbursed for their fees in prosecuting/defending claims. Generally, in order to be entitled to prevailing party attorney's fees in Florida attorney's fees must be provided for a statute or the contract between the parties. Price v. Tyler, 890 So.2d 246, 250 (Fla. 2004). Just in 2019 alone, Brendan A. Sweeney, Esq., LL.M., has qualified as an expert relating to attorney's fees for two highly complex attorney's fees claims in litigation matters, and provided testimony during evidentiary hearings, enclosed is a picture during an evidentiary hearing.
An example of statutory based attorney's fees can be found in Florida's construction lien statute, § 713.29, Fla. Stat., titled Attorney's fees, provides:
In any action brought to enforce a lien or to enforce a claim against a bond under this part, the prevailing party is entitled to recover a reasonable fee for the services of her or his attorney for trial and appeal or for arbitration, in an amount to be determined by the court, which fee must be taxed as part of the prevailing party's costs, as allowed in equitable actions.
An example of a contractual based attorney's fees is:
If any party hereto commences any action arising out of this agreement, including, without limitation, any action to enforce or interpret this agreement, the prevailing party in such action shall be entitled to their attorney's fees.
Regularly in Florida, contracts will contain a one-sided attorney's fee provision. For example, a residential purchase and sale agreement may state that in the event of litigation to enforce the agreement any and all attorney's fees incurred by seller will be reimbursed by buyer. Florida law will treat this as a reciprocal attorney's fees for both the buyer and seller. Pursuant to § 57.105(7), Fla. Stat., "[i]f a contract contains a provision allowing attorney's fees to a party when he or she is required to take any action to enforce the contract, the court may also allow reasonable attorney's fees to the other party when that party prevails in any action, whether as plaintiff or defendant, with respect to the contract. This subsection applies to any contract entered into on or after October 1, 1988."
One would think that determining the prevailing party is very easy to determine in litigation; this is not the case. Determining the prevailing party can be very difficult and complex depending on the types of claims, counterclaims, and cross-claims asserted in litigation and the outcome/result of the claims. To determine the prevailing party the Court will apply the significant issues test, which was first adopted as law in Florida by our Supreme Court in 1992.  Moritz v. Hoyt Enterprises, Inc., 604 So.2d 807, 809-810 (Fla. 1992) quoting Hensley v. Eckerhart, 461 U.S. 424 (1983) ("the [significant issues] test is whether the party 'succeeded on any significant issue in litigation which achieves some of the benefit the parties sought in bringing suit.").
In contingency matters there are certain instances wherein an attorney's fees award can be multiplied by a factor of 1.5 to 2.5. Standard Guaranty Ins. Co. v. Quanstrom, 555 So.2d 828 (Fla. 1990). In Quanstrom the Florida Supreme Court set forth the factors that need to be analyzed in determining the appropriateness of a multiplier are:
(1) whether the relevant market requires a contingency fee multiplier to obtain competent counsel;
(2) whether the attorney was able to mitigate the risk of nonpayment in any way; and
(3) whether any of the factors set forth in Rowe are applicable, especially, the amount involved, the results obtained, and the type of fee arrangement between the attorney and his client.
The factors enumerated in Rowe are:
The time and labor required, the novelty and difficulty of the question involved, and the skill requisite to perform the legal service properly.
The likelihood, if apparent to the client, that the acceptance of the particular employment will preclude other employment by the lawyer.
The fee customarily charged in the locality for similar legal services.
The amount involved and the results obtained.
The time limitations imposed by the client or by the circumstances.
The nature and length of the professional relationship with the client.
The experience, reputation, and ability of the lawyer or lawyers performing the services.
Whether the fee is fixed or contingent.
Florida Patient's Compensation Fund v. Rowe, 472 So.2d 1145 (Fla. 1985).
By way of example, imagine for a moment that an individual had to defend a breach of contract action that contained a prevailing party attorney's provision. The individual was unable to obtain counsel on an hourly basis to defend them, however, did retain counsel on a contingency basis. This attorney was able to successfully defeat all of the claims. Counsel's actual attorney's fees time for the matter is $100,000.00. If the attorney is able to establish the above referenced factors then the court could multiply the award of attorney's fees all the way to a factor of 2.5, a $250,000.00 award.
Parties entering into contracts have to carefully consider and analyze attorney's fees provisions. Additionally, parties engaging in Florida litigation need to be cognizant of whether there is a right to prevailing party attorney's fees. Brendan A. Sweeney, Esq., LL.M., has litigated in excess of a million dollars in attorney's fees claims. Sweeney Law, P.A. regularly represents parties in complex Florida transactional and litigation law matters and has vast experience in negotiating and litigating attorney's fees awards.
Sweeney Law, P.A. Regularly Handles Complex Florida Transactional & Litigation Matters
Brendan A. Sweeney, Esq., LL.M., of Sweeney Law, P.A., a boutique firm in Fort Lauderdale, Florida, regularly handles complex transactional and litigation matters throughout Florida. Brendan A. Sweeney, Esq., LL.M., is an AV Preeminent Martindale Rated Attorney, that has been recognized as a Florida Super Lawyer in 2019, Florida Legal Elite in 2019, and as a Florida Super Lawyer Rising Star in 2018, 2017, 2016, 2015, and 2014. If you have any Florida transactional or litigation questions and/or issues then contact Sweeney Law, P.A. at (954) 440-3993 immediately to protect your rights. www.sweeneylawpa.com.