Who Is Responsible For Weather-Related Construction Project Delays?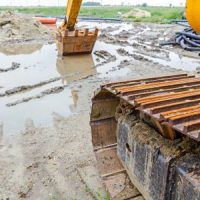 Your construction project is on track and you will certainly meet your contractual deadlines. You've planned for just about any contingency. And then it happens: Weather. Not just any weather, but the kind that throws the project into doubt, or even the kind that just throws your tight completion schedule askew. What then? Who is liable for delays that are caused by weather?
Weather Related Delays
Weather problems can cause a host of problems on construction sites, including increased labor, additional equipment rentals, cash flow problems, increased interest penalties, and other problems that can seriously cut into your profit margin.
Many construction contracts have language that deals with weather related delays. And while you can negotiate whatever provision that you want, and while you shouldn't just assume that your contract is standard, as a general rule, delays in deadlines will be excused when caused by weather. However, there often is no way for a construction company to recoup the extra costs associated with weather related delays.
Requirements to Get Extensions
The contracts that allow for delays due to weather do put some additional requirements on contractors who are seeking extensions or who have delays. Many standard contracts will require that a contractor show that weather conditions are "abnormal," and that they could not have been reasonably anticipated.
That means that "normal" bad weather won't constitute an excuse for delay. This can lead to a dispute over, of all things, standard and expected meteorological conditions in your area, and whether the weather condition that caused your problems (delays) is normal or abnormal. Questions can arise. For example, in Florida, hurricanes are an expected threat every year. But does that make the occurrence of a hurricane "normal" or "reasonably anticipated?" Weather events like hurricanes demonstrate the difference between these two terms.
But even if it is demonstrated that weather was abnormal, there often still must be a showing that the weather had an adverse effect on the construction—in other words, that the construction company couldn't have finished on time, despite the inclement weather.
Getting Paid for Delay Costs
There is one scenario where a construction company can get a delay because of weather, and be compensated for costs related to those delays: When the owner or other side to the contract is responsible for the damage.
For example, if the other side were to delay a project such that the project extended into hurricane season, or if property was poorly maintained by the owner such that the property couldn't handle the bad weather (such as flooding) the construction company may be able to recover costs related to the delay.
Call our Fort Lauderdale construction attorneys at Sweeney Law P.A. at 954 440-3993 if you have a construction legal problem or for help with your construction contracts or agreements.