Where Can You Sue And Be Sued? These Contractual Provisions Matter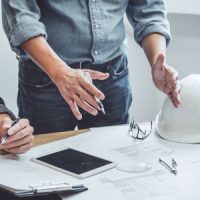 So, you have drafted your construction contract, and it looks like you've covered all your bases. You even have damages provisions, so if you have to sue to enforce your agreement, you can. But where will you sue? Do you know all the contractual provisions that can affect where you can sue—or where you can be sued, if you're on the other end of the lawsuit?
Venue Selection – Choice of venue forums, as the name implies, says where a lawsuit can be filed. In construction contracts, where there can be multiple parties with multiple offices in multiple states, these provisions are essential. A choice of venue provision will ensure that if you have to sue, you can do it close to home, which also means that you can appear in court easier, and hire a construction law attorney that is most familiar with the laws you need to apply in court.
Choice of venue provisions have to be specific, and written in mandatory language. Words like "any lawsuit may be brought in XYZ," may not be effective the way a provision that says "any lawsuit must be brought in XYZ" would be.
Remember to be specific. For example, is jurisdiction proper in a "Florida court?" Or, in a "court in Miami-Dade County?" Or in any court "within a 20 mile radius?" It doesn't matter what you choose as long as you are Ok with it. Just remember to be specific if you want to limit where you can sue or be sued.
Choice of law – So you have chosen your choice of venue, and you now know that if you need to sue or you get hauled into court, you know where you'll be. But that's just part of the equalsion. What law will the court apply?
This may be obvious when all parties to the construction contract are from Florida. But when there are parties from different states, who may be signing the agreement from different states, there can be conflict of which state law will apply.
You can use choice of law to your advantage. For example, you can select the law of another state, where the laws may be more or less favorable to you or the other side, if that's what you choose to do.
Forum Non Conveniens – Even if jurisdiction is proper, and parties are from Florida, you can still run into problems where your chosen court is simply not in a convenient location. This means the witnesses aren't there, the evidence isn't there, and perhaps, the construction project isn't there. All of these things are in a different state or jurisdiction or county.
If that happens, the court can transfer your case to another location that is "more convenient," even if it isn't actually more convenient for you. A provision in your contract can avoid this from happening.
Let us help you with your construction law contracts. Call our Fort Lauderdale construction law attorneys at Sweeney Law P.A. at 954 440-3993 with your construction law problems or questions.
Resource:
law.cornell.edu/wex/forum_non_conveniens#:~:text=Forum%20non%20conveniens%20is%20a,suited%20to%20hear%20the%20case.&text=This%20doctrine%20may%20be%20invoked,defendant%2C%20or%20by%20the%20court