The Legal Stages of Construction Bidding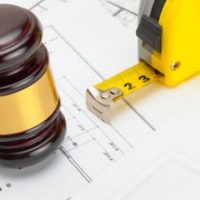 Construction bidding is the process of submitting a construction proposal to oversee or manage the overseeing of a construction project.  In the case of state or federal government processes, there is a formal bidding process.  The bidding process is overseen by the governmental entity that is making the solicitation. There are a few major stages in the bidding process: the contract stage, submission stage and then the selection stage. Contractors much ensure that they take particular care in respect to following issues within each stage of the process.
Contract Stage
The process begins when the public agency issues a bidding contract to solicit bidders for the construction project.  The contract or the bid contains all the details of the construction project including duration, the type of services requested, and payment terms. The bidding party must thoroughly vet the contract to ensure that they have the qualifications to deliver the desired services in the agreed timeframe.  The bidder should also watch out for terms that are adverse to their normal business processes including payment and delivery procedures.
Submission Stage
The bidding party should agree to the terms of the agency or entity's bidding processes including the selection criteria. In most cases, the solicitor wants a contractor who has the lowest bid rate as well as the qualification to complete the services requested. As a result, it is a win-win situation for the soliciting party.  In preparing the bid, the contractors have to plan and research their own capabilities. This includes budgetary, space and manpower. If there exist particular nuances to the services requested, the bidding party must look into their capabilities to determine if they can meet those requirements. The bidding party is contractually obligated to submit a bid that reflects its capabilities.
Selection Stage
The selection stage of the bidding process can be the stage most fraught with legalities.  In this stage, the soliciting party can invite parties to present their bid. When the solicitor selects a winner the contractor has accepted the contract and will be required to fulfill the requirements under the contract. In some instances, where the contractor sees any unfairness in the bidding process, the contractor can initiate a bid protest. A bid protest is a challenge to the award of the contract of services or goods usually in the manner of selection and terms governing selection. A knowledgeable attorney can guide a contractor in advancing a bid protest.
Fort Lauderdale Construction Law Attorney 
If you are seeking to file a bid protest related to the solicitation of construction services, it is wise to hire an attorney. Fort Lauderdale construction attorney Brendan A. Sweeney has years of experience advising on bid protests as well as solicitation rules and terms. Contact us now for a consultation.
https://www.sweeneylawpa.com/avoiding-legal-pitfalls-as-a-general-contractor/