"Standard" Contract Provisions That Could Haunt You If You're Not Careful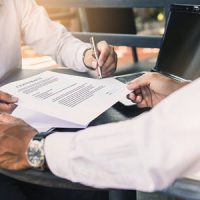 We sign contracts all the time in business—so many, that there are a number of sections in our contracts that we see so often, we refer to them as "boilerplate" provisions. They are common, similar, and often tacked onto every contract that you sign.
But some aren't so harmless, and can cause you real problems if they are ignored, or if you don't take the time to understand what they mean. Here are a few provisions that you may want to look out for in what would seem to be otherwise "standard" contractual provisions.
Venue – We always worry about who to sue, but have you given thought to where you can sue?
Don't just assume that you can sue here, in Florida, or wherever the "wrong" may have occurred. A contract with a venue provision will restrict you to only suing in whatever state, jurisdiction, court or county that the provision says.
This can add serious hardship and expense to your lawsuit, and make it much harder and more expensive for you to sue to assert your contractual rights if needed. Your chosen lawyer may not even be able to represent you, in whatever venue the contract dictates.
Choice of Law – So you can sue anywhere you want? That's great news for you. But what law will apply? Don't just assume Florida law will, because parties are often free to stipulate to have a different state's laws apply to their case.
Parties often do this when the law of a particular state is easier for them or more beneficial to them, than Florida's laws.
Notice – Many contracts will require you to give the other side some form of notice, before you can sue. This can be a good thing; if you're the one being sued you may have the opportunity to fix or cure a problem, before it blossoms into a lawsuit.
But if you need to enforce something right away, or you need immediate court action, you'll need to give proper notice, in the form the contract says, and give the other side the required amount of time, to make things right before you can assert your rights in court.
Waiver – In many cases, the parties' course of dealing can modify the terms of a contract. Waiver clauses generally say that even if a party voluntarily "excuses" a requirement in a contract, that part of the contract is not waived, and can still be enforced by the other side if needed.
If payment is due on the 15th of each month, and you keep accepting late payments, you may have waived your right to demand payment by the 15th.
Mediation – Like notice, required mediation has two sides. On one hand it can help you resolve a case before it turns into a full blown lawsuit. On the other hand, it could delay your right to go to court, if mediation is a required prerequisite to filing your lawsuit.
Questions about your business's contracts or agreements? Call our Fort Lauderdale business law lawyers at Sweeney Law P.A. at 954-440-3993 today for help.
Sources:
lawshelf.com/coursewarecontentview/erie-doctrine-and-choice-of-law-choice-of-law/#:~:text=%22Choice%20of%20law%22%20is%20a,defendant%20are%20from%20different%20states.
law.cornell.edu/wex/forum_selection_clause