MEDIATION IN FLORIDA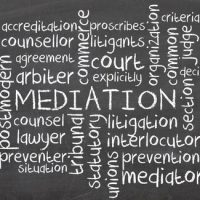 Mediation is securely rooted as a vital component of Florida's court system. The Florida Legislature and judiciary have generated one of the most comprehensive court-connected mediation programs in the country. Over 18,000 people have completed a Supreme Court of Florida certified mediation training program, and over 5,000 people are certified by the Supreme Court of Florida as county, family, circuit, or dependency mediators. Each of the 20 judicial circuits regularly refer cases to mediation. Furthermore, cases routinely go to mediation by agreement of the parties or as a requirement prior to filing suit.
Mediation can be a valuable tool when disputes involve another person with whom you would like to remain on good terms. Family members, co-workers, business partners, landlord, neighbors, or others you would like to have a continuing personal or business relationship. Lawsuits usually divide and ultimately ruin relationships. One benefit of mediation is its ability to resolve disputes without ending the relationship.
However, even if there are no relationship concerns there are still several benefits connected to mediation, including:
Speed.Mediation normally takes days or weeks, unless the case is complex, whereas lawsuits typically take months or years. When parties want a relatively quick resolution, mediation allows a more reasonable timeframe for resolving the dispute.
Flexibility.Mediation can be used to discuss creative and tailored solutions. In mediation, any issue the parties bring can be deliberated. The cause of the conflict can be identified and resolved, especially in cases of erroneous or inadequate information, differing goals and/or methods for resolving the disagreement.
Cost.Mediation is significantly less expensive than a typical lawsuit. Mediators fees are lower on average than court fees and have a quicker turnaround. You will likely pay less money over a shorter period.
Control.In the mediation process, the people participating in the process are the ones who create an agreement that works for them. In arbitration or in court, an agreement is enacted by an arbitrator or judge. Parties commonly report a better outcome as a result of mediation than they do from a lawsuit. Similarly, because there is no winner or loser, no admission of fault or guilt, and the settlement is mutually agreed upon, parties are generally more content with mediation.
Confidentiality.Unlike court cases, which are public, mediation is typically confidential, which means there are no records or transcripts and any evidence introduced during mediation cannot be used in later court proceedings or revealed.
Informality.The informality of mediation allows the parties to be more engaged than if they were in a court-driven environment designed to separate the parties. The mediator works straightforwardly with the parties and can focus their needs and interests rather than on their stated positions.
Greater compliance. Because mediation creates better results quicker and cheaper, compliance with mediated resolutions is generally higher than with lawsuits.
Sometimes it isn't only up to the parties to determine if they want to bring their dispute to mediation. A court can order Mediation pursuant to Florida Statute § 44.102. Attendance with a court-ordered mediation is directed by Fla. R. Civ. P. 1.720(b), which specifies who must attend the mediation, stating that unless stipulated by the parties or changed by order of the court, a party is deemed to appear at a mediation conference only if the following persons are physically present:
(1) The party or its representative having full authority to settle without further consultation;
(2) The party's counsel of record, if any; and
(3) Where insurance is involved, a representative of the insurance carrier for any insured party who is not such carrier's outside counsel and who has full authority to settle up to the amount of the plaintiff's last demand or policy limits, whichever is less, without further consultation.
The rule further states that "[i]f a party fails to appear at a duly noticed mediation conference without good cause, the court upon motion shall impose sanctions, including an award of mediator and attorneys' fees and other costs, against the party failing to appear."
Parties who fail to appear at mediation will be sanctioned (as will their attorneys who fail to advise their clients about the mandatory mediation requirement). In Doorstep Bevs. Of Longwood, Inc. v. Collier, 928 So. 2nd 482, 483 (Fla. 5th DCA 2006.) on of the parties, Mr. Collier, did not appear for the scheduled mediation and no motion was filed with the court to excuse his appearance. Mr. Collier was required to pay sanctions: 1) to the mediator, all fees charged by the mediator in connection with the appellate mediation; 2) to opposing counsel, reasonable attorney's fees and costs incurred in preparing for and attending the appellate mediation and filing the motion for sanctions; and 3) to the clerk of the court, $500 as a sanction for willful failure to comply with the court's mediation order.
Even where a party sends his attorney and the party is available by phone, failure of a party to personally attend will result in expensive sanctions. The fact that a party has the ability to "appear" by phone does not satisfy the requirement under Rule 1.720 (unless stipulated by the parties or permitted by order of the court). In Segui v. Margrill, 844 So. 2nd 820 (Fla. 5th DCA 2003), a party who had been ordered to participate in appellate mediation argued that he should not be sanctioned because his attorney was present at the mediation with "full settlement authority." He additionally argued that sanctions were not justified since during the mediation he could have been contacted at all times by telephone. The Fifth DCA overruled the arguments as meritless. "We required [Mr.] Margrill to attend mediation because a party's actual presence at mediation is often critical to its success. Counsel is clearly not a 'party,' regardless of whether he or she is given authority to settle by the client." The Court then stated that suitable sanctions for a party's failure to comply with the court's order involved the award of reasonable attorney's fees and mediator fees, citing Carbino v. Ward, 801 So. 2nd 1028 (Fla. 5th DCA 2001) (awarding appellate attorney's fees as a sanction for failure to appear at a mediation, although such fees were not specifically referenced in the sanction rule).
Another crucial aspect of mediation is that it does not need to be determinative. The mediator will not make a ruling or is even allowed to offer a formal opinion on how a court would rule regarding a matter. This means that while any agreement made in mediation is binding, the result of a mediation is not always a final decision. Many cases involve several mediations and even if a mediation results in an impasse both parties come out with valuable insights as to the strengths and weaknesses of their and their opponent's case. Further still, with this gain of knowledge in hand future mediations can produce a more fruitful result. Sweeney Law recently was counsel to a party's seventh mediation on a matter. Even though each of the prior six mediations ultimately resulted in an impasse, the parties were able to get closer and realize that they just needed a bit more of a push to find common ground. A good mediator can provide that push, and finally in that seventh mediation we were able to reach an agreement.
Sweeney Law, P.A. Has Vast Mediation Experience
Brendan A. Sweeney, Esq., LL.M., of Sweeney Law, P.A., a boutique firm in Fort Lauderdale, Florida, regularly handles complex mediations throughout Florida. Brendan A. Sweeney, Esq., LL.M. is an AV Preeminent Martindale Rated Attorney, that has been recognized as a Florida Super Lawyer in 2019, Florida Legal Elite in 2019, and as a Florida Super Lawyer Rising Star in 2018, 2017, 2016, 2015, and 2014. If you have any questions and/or issues regarding mediation contact Sweeney Law, P.A. at (954) 440-3993 immediately to protect your rights.
www.sweeneylawpa.com.