LIVING IN A FLORIDA GOLF COURSE COMMUNITY DREAMS CAN BECOME NIGHTMARES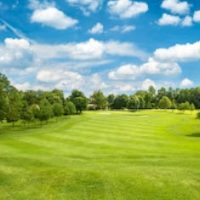 Everyone has seen the advertisements for living in a Florida golf course community, whether reading your local newspaper, or simply driving around Florida. The sales pitch usually follows something along the lines of, you deserve it, Florida resort lifestyle, and will show a beautifully manicured course with the background of unspoiled Florida wetlands. The photographs will purposely obscure/hide the residential housing, from condominiums to single family residences dotting all of the fairways and surrounding greens.
Living in a Florida resort golf course community can be an excellent lifestyle selection for many people that enjoy golf and play regularly. However, just with everything else, there is always a downside and risk involved when buying into and living in a Florida golf course community.
What generally governs homeowners' rights when living in a Florida golf course community is the declaration. Single family residences are governed by Chapter 720, Florida Statues and condominiums are governed by Chapter 718, Fla. Statutes. The declaration will often times specify whether there is a mandatory country/golf club membership initiation fee associated with the subject property. For example, many communities require that any title holder to real property within the Florida golf course community be a member of the country/golf club. These memberships can vary from golf course community to community, and geographic location. Many of the higher end communities have a six-figure country/golf club membership initiation fees required. Purchasers of these properties sometimes have a difficult time obtaining the requisite financing to meet the initiation fee, and issues involved with underwriting, that sometimes force purchasers into paying cash for the initiation fee.
Some Florida golf course communities require a new initiation fee to be paid whenever there is a change in the title of the subject property, other than for specific estate planning purposes. This wreaked havoc on lenders during the foreclosure downturn. When a lender or mortgage servicer was the successful bidder at the foreclosure sale and had a certificate of title issued in one name and then had to change title to the subject property to another entity name. These types of issues can ultimately result in what I refer to as, the double whammy of gold membership initiation fees. When this type of scenario occurs the membership initiation fee is usually for the most expensive type of membership, it will include all of the bells and whistles associated with it. The reasoning and rationale behind this is the purchasers and lenders were all put on notice of the mandatory country club initiation fee because it is in the public records and can be found in the declaration.
Moreover, the cost of ownership and carrying costs associated with homeownership in a Florida golf course community can be high. Owners can be required to pay the regular fees/assessments for the homeowners or condominium association as well as regular fees/assessments country/golf club membership. These regular fees can add up and be costly, especially if you are not regularly using the country/golf club facilities.
In addition to the various issues associated with mandatory initiation fees. Homeowners need to be cognizant that as a whole the golf industry has been shrinking and the traditional country club model is somewhat outdated and frowned upon by the younger crowd; the same younger crowd that these clubs desperately need to fill their membership rolls. When this occurs the condition of the golf course can deteriorate resulting in a decreased value in your home. What use to be a premier golfing facility is now worse than the local municipality course.
This is a minor concern when compared with what can occur when the country/golf club sells the 150 pristine acres of golf course to a real estate developer that puts a myriad of residential housing components throughout what used to be the fairways and greens. That lot and residence that you paid a premium for overlooking fourth green now has a beautiful view of the townhouse backyards, barbeque grilles, and baby pools galore! Purchasers of residences in Florida golf course communities need to be cognizant and conduct a careful review and analysis of whether they have any rights to the land associated with the golf course, and what can occur if the country/golf club ends up selling to another party that ends up developing the land for an alternative use – like condominiums, carriage houses, townhouses, and single family residences all over what used to be beautiful fairways and greens.
Another interesting issue that can arise is what can occur when there is a divorce between two property owners in a community that requires country/club golf membership and requires payment of regular membership fees and other assessments. If the divorce attorneys are not savvy enough, they can overlook this issue resulting in an ex-wife facing a huge debt and lawsuit from the country/golf club due to the ex-husband enjoying and failing to pay for his regular dues, greens fees, and assessments associated with the country/golf club membership.
Sweeney Law, P.A. has represented lenders, mortgage servicers, investors, and homeowners in various pre-suit and litigation matters concerning issues arising out of homeownership in a Florida golf course community. In 2018 alone, Sweeney Law, P.A. was responsible for having well into six figures worth of country club membership fees wiped out.
Sweeney Law, P.A. Regularly Prosecutes and Defends
Complex Florida Litigation Matters
Brendan A. Sweeney, Esq., of Sweeney Law, P.A., a boutique litigation firm in Fort Lauderdale, Florida, prosecutes and defends complex litigation matters throughout Florida. Brendan A. Sweeney, Esq., is an AV Preeminent Martindale Rated Attorney, that has been recognized as a Florida Super Lawyer in 2019 and as a Florida Super Lawyer Rising Star in 2018, 2017, 2016, 2015, and 2014. If you have any Florida civil litigation questions and/or issues then contact Sweeney Law, P.A. at (954) 440-3993 immediately to protect your rights. www.sweeneylawpa.com.