INADVERTENT DISCLOSURES, ONE PARTY'S MISTAKE DOES NOT ALWAYS CREATE AN ADVANTAGE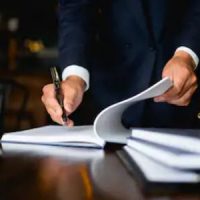 PRIVILEGE AND CONFIDENTIALITY NOTICE: This e-mail is covered by the Electronic Communications Privacy Act, 18 U.S.C. 2510-2521 and is legally privileged. The contents of this e-mail message and any attachments are intended solely for the party or parties addressed and named in this message. This communication and all attachments, if any, are intended to be and to remain confidential, and it may be subject to the applicable attorney – client and or work product privileges. If you are not the intended recipient of this message, or if this message has been addressed to you in error, please immediately alert the sender by reply e-mail and then delete this message and its attachments. Do not deliver, distribute, or copy this message and or any attachments if you are not the intended recipient. Do not disclose the contents or take any action in reliance upon the information contained in this communication or any attachments.
Thank you.
This blurb is a common footer to an attorney's email signature. Although attorneys try to act with the utmost care and caution when dealing with confidential information or work product, mistake ultimately get made here and there. Luckily the Florida bar, Florida rules of civil procedure and federal rules of civil procedure all provide insight as to how to cope with these so-called inadvertent disclosures.
Courts in Florida have high expectancies from their attorneys; those expectations are not diminished for an attorney who receives inadvertently produced privileged documents. Actually, attorneys who inadvertently produce the documents are able to turn their inadvertence into a formidable weapon in the form of a motion to disqualify. Throughout the U.S., courts regularly express an unwillingness to consider motions to disqualify. Choosing your attorney has been called "one of the most important associational freedoms that a person may have" therefore, "a court must be sensitive to the competing interests of requiring an attorney's professional conduct and preserving client confidences and, on the other hand, permitting a party to hire the counsel of choice." Kusch v. Ballard, 645 So. 2d 1035, 1036 (Fla. 4th D.C.A. 1994). Nevertheless, as discussed in more detail below, courts in Florida will not pause to disqualify an attorney who exploits an adversary's mistakes and gains an "informational advantage" as a result of an inadvertent document production.
In February 1994, The Florida Bar issued an ethics opinion asserting that in the event of an inadvertent disclosure of documents (electronic or otherwise), "an attorney, upon realizing or reasonably believing that he or she has received a document or documents that were inadvertently misdelivered, is ethically obligated to promptly notify the sender of the attorney's receipt of the documents. It is then up to the sender to take any further action." Professional Ethics of The Florida Bar, Opinion 93-3. The Rules Regulating The Florida Bar were then amended in 2006 to include a stipulation that codifies this ethics opinion. This rule was entitled "Respect for Rights of Third Persons," and states:
(a) In representing a client, a lawyer shall not use means that have no substantial purpose other than to embarrass, delay, or burden a third person or knowingly use methods of obtaining evidence that violate the legal rights of such a person.
(b) A lawyer who receives a document relating to the representation of the lawyer's client and knows or reasonably should know that the document was inadvertently sent shall promptly notify the sender.
In a comment to Rule 4-4.4 there is a caution that zealousness in representation "does not imply that a lawyer may disregard the rights of third persons." Additionally, "[i]f a lawyer knows or reasonably should know that such a document was sent inadvertently, then this rule requires the lawyer to promptly notify the sender in order to permit that person to take protective measures."
Similarly, the Federal Rules of Civil Procedure speaks to how a party receiving an inadvertent disclosure must thereafter act in Rule 26(b)(5)(B), which provides:
[T]he party making the claim must notify any party that received the information of the claim and the basis for it. After being notified, a party must promptly return, sequester, or destroy the specified information and any copies it has; must not use or disclose the information until the claim of privilege is resolved; must take reasonable steps to retrieve the information if the party disclosed it before being notified; and may promptly present the information to the court under seal for a determination of the claim. The producing party must preserve the information until the claim is resolved.
Florida has a similar rule in its rules of civil procedure, Fla.R.C.P. 1.285(b) states:
Duty of the Party Receiving Notice of an Assertion of Privilege. A party receiving notice of an assertion of privilege under subdivision (a) shall promptly return, sequester, or destroy the materials specified in the notice, as well as any copies of the material. The party receiving the notice shall also promptly notify any other party, person, or entity to whom it has disclosed the materials of the fact that the notice has been served and of the effect of this rule. That party shall also take reasonable steps to retrieve the materials disclosed. Nothing herein affects any obligation pursuant to R. Regulating Fla. Bar 4-4.4(b).
Using this framework as a background, there are several cases where attorneys receiving inadvertently produced documents did not act "promptly." Courts have not always been consistent when ruling on cases of this type, but it is clear that the attorneys who received the privileged documents exposed themselves to the very real possibility of disqualification.
In General Acceptance Insurance Company v. Borg-Warner Acceptance Corp., 483 So. 2d 505 (Fla. 4th DCA 1986) the court inadvertently forwarded the defendant insurance company's claim file to plaintiff's counsel, instead of defendant's counsel, following an in camera inspection during which the court established that the claim file was privileged. Plaintiff's counsel obtained the file from the court, and not realizing that the file was sent to him inadvertently, examined it. The defendant insurance company moved to disqualify plaintiff's counsel "on the grounds that they had acquired an unfair advantage by virtue of the inadvertent disclosure of [g]eneral [a]ccident's claim file and certain privileged documents." The trial court denied the motion, but that decision was reversed by the Fourth District Court of Appeal, expressing:
Like so many other ethical considerations in the practice of law, perceptions are of the utmost importance. Thus, how much of an advantage, if any, one party may gain over another we cannot measure. However, the possibility that such an advantage did accrue warrants resort to this drastic remedy for the sake of the appearance of justice, if not justice itself, and the public's interest in the integrity of the judicial process.
A series of judgments followed, disqualifying attorney's for just looking at documents they received by the mistake of some other actor. In a footnote of Abamar Housing & Development v. Lisa Daly Lady Décor, Inc., 724 So. 2d 572, 573 (Fla. 3d D.C.A. 1998), the court noted that "an attorney who follows the dictates of the ethics opinion [referring to the 1994 ethics opinion], and complies with the obligation to promptly notify and to return immediately the inadvertently produced documents without exercising any unfair advantage (such as photocopying the 'confidential documents' prior to returning them), will not be subject to disqualification." So, although the Abarmar court specifically held that "[t]here was no requirement to demonstrate prejudice" to permit disqualification, the court focused on 1) the effects of the inadvertent disclosure; 2) the receiving party's recalcitrance; and 3) the "unfair tactical advantage gained from such disclosure."
In Coral Reef of Key Biscayne Developers, Inc., 911 So. 2d 155 (Fla. 3d DCA 2005), the Third District Court of Appeal approved the standard of disqualification previously embraced by prior decisions that were getting wary that inadvertent disclosure may turn into tactical "advertant" inadvertent disclosure in order to seek a disqualification. Coral Reef held that the standard for disqualification lies in whether the recipient of the documents "gains an unfair tactical advantage by virtue of that disclosure." Coral Reef also determined that, because the trial court had ordered the production of the documents which were later determined to be privileged, that a "higher standard must apply for disqualifying counsel when the privileged documents are received pursuant to a court order that is subsequently vacated." Rather than the mere possibility of a tactical advantage, the court held that "evidence of actual harm caused by opposing counsel's review of the privileged documents" must be demonstrated, a much higher. Nevertheless, the court concluded by cautioning that "[i]t bears repeating that we do not face a situation where a lawyer obtained privileged information inadvertently and then utilized it improperly. Undoubtedly, there are some situations when a party's lawyer reviews another party's privileged documents outside the normal course of discovery and, therefore, must be disqualified."
The idea of your own disqualification after your opponent failed to do his or her job properly by producing privileged documents to you is worrying, but perhaps a necessary evil to preclude the presence of an unfair advantage. Undoubtedly, case law has made a statement that the receiving attorney must appropriately respond to his or her adversary's inadvertent disclosure, despite the jurisprudence often used by courts in their desire to uphold the client's choice of attorney whenever possible.
Based on Florida case law and the corresponding ethics rules, much of a court's analysis of a motion to disqualify will be decided by the conduct of the receiving attorney. The safest practice for an attorney who receives an inadvertently produced document is to immediately stop reviewing the document upon realizing that it may be privileged, thus preventing opposing counsel's claim of an "informational advantage." Do not distribute the document with anyone else in your firm. Contact your adversary straightaway, preferably in writing, to inform that you believe he or she may have inadvertently produced documents to you. If the documents were divulged in hard copy, do not e-mail, copy, or electronically store the documents, as the Federal Rules of Civil Procedure necessitate instantaneous sequestration, destruction, or return of the documents. Instead, send the documents back to opposing counsel and allow counsel to determine whether he or she will be claiming a privilege. If the documents were sent to you electronically or on a compact-disk, advise opposing counsel that you have stopped your examination of the files and offer opposing counsel the bates number of the offending documents. Proceed to ask how counsel would like you to continue. Most importantly, do not attempt to gain a tactical advantage as a result of the disclosure, or you face the prospect of at the very least an evidentiary hearing concerning the aptness of disqualification.
Sweeney Law, P.A. Has Vast Experience in Handling Issues
Concerning Inadvertent Disclosures 
Brendan A. Sweeney, Esq., LL.M., of Sweeney Law, P.A., a boutique law firm in Fort Lauderdale, Florida, regularly handles complex litigation matters that concern inadvertent disclosure throughout Florida. Brendan A. Sweeney, Esq., LL.M. is an AV Preeminent Martindale Rated Attorney, that has been recognized as a Florida Super Lawyer in 2019, Florida Legal Elite in 2019, and as a Florida Super Lawyer Rising Star in 2018, 2017, 2016, 2015, and 2014. If you have any questions and/or issues regarding inadvertent disclosure contact Sweeney Law, P.A. at (954) 440-3993 immediately to protect your rights.
www.sweeneylawpa.com.