Have to Lay Off Employees? Better Comply with the WARN Act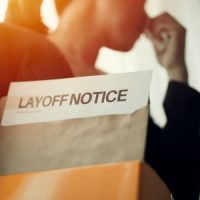 Let's say your business comes on hard times, and you have to make the tough choice to lay off a significant amount of employees. It is hard to do, and you don't want to do it, but at least you can rest assured that because Florida is an at-will employment state, that you can make those layoffs, without fear of legal repercussions.
Or can you? Actually, when it comes to significant layoffs, there is one law that you need to be aware of, that could put you in legal trouble if you don't follow it. It's called the Worker Adjustment and Retraining Notification Act, or the WARN act.
WARN Act Requirements
Certainly, you have a right to layoff employees, as you need to do, and when you need to do so. The WARN act doesn't change that. However, the act does require that before making those layoffs, that you provide notice to your (soon to be former) employees.
You must give 60 days advance notice, of any intention to close your business entirely, or to make layoffs. The events that can trigger the obligation to provide the notice, include things like closing any building, location, or worksite, that will lead to laying off 50 or more employees within any one 30 day period, or if 33% of the entirety of your workforce (employees) will be laid off.
The layoffs accrue over 90 days and are totaled over those 90 days. This is to avoid people laying off employees little by little, to avoid the WARN requirements. So, if you meet the requirements above over any 90 day span, you must provide WARN notices.
Exceptions to Compliance
Not every business has to comply with WARN. You must have at least 100 employees, who work more than 20 hours per week. The notices must be given to employees, but if there is a union, you can satisfy WARN by giving notice to the designated union representatives.
In some cases, you do not have to comply with WARN. If you file for bankruptcy or go insolvent, and that is an unexpected event, you don't have to comply with WARN. Layoffs that result from a catastrophe—say, a hurricane or a pandemic, or anything that may constitute "force majeure" or "Acts of God"-type events—don't require a WARN notice be given.
Business can argue that they did not give WARN notices, because they were trying to get financing to keep the business' doors open; if this is genuinely true, the company has an excuse for not giving WARN notices (which makes sense, as nobody will lend money to a company struggling so much, it is laying off workers).
WARN also doesn't apply to temporary jobs, or jobs that are expected to only be temporary, such as seasonal workers, or workers hired to do a single project (like a welder that is hired only for a single project, or a director hired only for one video project).
Don't get your business in legal trouble. Let us help. Call our Fort Lauderdale business lawyers at Sweeney Law P.A. at 954-440-3993 today.
Sources:
floridajobs.org/office-directory/division-of-workforce-services/workforce-programs/worker-adjustment-and-retraining-notification-(warn)-act
dol.gov/agencies/eta/layoffs/warn