Florida Expands The Apex Doctrine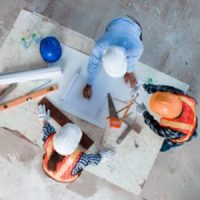 The Florida Supreme Court has made a ruling that could potentially affect your construction company if it is involved in lawsuits or litigation. This is especially true if you are a high ranking owner, or manager, of the company.
Can't Depose The Person at the Top
For a long time, the law said that when you sue a government entity, and you wanted to take depositions, you could not go and depose the highest ranking official. In other words, if you sued the city for a refusal to issue a certificate of occupancy, you couldn't first set the mayor for deposition.
Instead, you would first have to depose the people who are lower on the "totem pole," the mid-level managers or employees who know something about your case or the allegations in your complaint.
Only after deposing those people, if you still haven't obtained necessary information, and assuming that you can demonstrate that the high ranking official has information that you need (that is, that he or she actually knows something relevant to the complaint), can you then depose the mayor or the governor or the city manager–the top guy or woman in the government entity.
The logic was to avoid people being noticed for deposition simply for harassment. If the mayor could be deposed for every contest of a parking ticket, or every decision that every city agency made, the mayor wouldn't be able to get anything done. Furthermore, unscrupulous lutiants could start to notice mayors and governors for deposition, simply to harass them, and coerce them into settling the case.
Apex Doctrine is Expanded
This is all called the Apex Doctrine. The Florida Supreme Court recently expanded the Apex Doctrine, to private companies, so it is no longer limited to just government agencies and entities the way it was.
This means, for example, if you are a construction company, and you are a higher ranking official, someone who sues you cannot immediately notice you for deposition, unless you actually have direct knowledge of the topic that is relevant to the lawsuit.
The law change is a double edged sword, depending on who you are. If you are a person or a company suing a construction company, you may not like this change–it puts a burden on you to take more depositions, and then go to court, ask to depose the top man in the company on the other side, and explain why you can't get the information any other way other than deposing the top dog in the company.
If you are a construction company (or any private company) that is large enough, you get some security that your CEO or Executive Director are not going to be hauled into court on Day 1 simply for the purposes of harassing  you.
Our Fort Lauderdale construction law attorneys at Sweeney Law P.A. at 954 440-3993 can help if you are involved in business or construction related lawsuits. Call us with your construction law problems or questions.
Resource:
americanbar.org/groups/litigation/committees/pretrial-practice-discovery/practice/2018/the-apex-deposition-practice-tips-and-standards/