Construction Delays and Your Contracting Options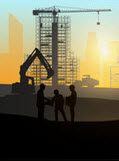 When it comes to construction projects, delays are one of the most common sources of disputes between property owners and contractors. A construction delay is a foreseen or unforeseen stall in starting all or part of a construction project. A delay is of little or no consequence to the construction project or it is highly impactful. Construction delays can become quite costly and stressful for all parties involved. The longer it takes for a project to begin, the more at stake. One aspect of construction delay that is often the subject of disputes and litigation is determining the liable party at fault for the delay. To reach that answer, the parties must first determine what precipitated the delay.
Excusable and Inexcusable Delays 
The nature of the delay dictates the legal ramifications. A delay usually fits in one of two categories: (1) excusable or (2) inexcusable. An excusable delay is a delay that is unforeseeable and is outside of the contractor's control. One excusable delay that often arises is severe weather that is not conducive to building. Other examples of excusable delay are design changes requested by a manufacturer, labor union strikes or the illness of essential workers. Inexcusable delay is delay that is foreseeable and was within the control of the contractor. These inexcusable delays are usually preventable or quickly resolvable. Some examples of inexcusable delay are ordering the wrong parts and equipment, not obtaining the required building permits or failing to effectively communicate start times to workers. In the case of an inexcusable delay, the contractor is not entitled to an extension and the owner is not liable for any damages to other parties flowing from the delay. Although inexcusable delay is detrimental to an owner's construction schedule, there some steps an owner can take to lessen the impact of a delay.
Lessening the Impact of a Delay
How do owners lessen the impact of a delay? Contract around the issue. Like all aspects of service work, the contract reigns supreme. Owners should include a detailed clause in construction contract covering excusable delays. Owners should include an exhaustive list of scenarios falling under excusable delay. This is prudent, as a contractor will attempt to argue that a delay is covered under the contract as excusable even though it was not explicitly stated. This argument is proffered to get out of paying damages or incurring cost. Therefore, it is best to include a limited clause to avoid a general reading by the contractor. Conversely, owner should agree to a broadly constructed inexcusable clause to avoid a scenario where a foreseen delay is not accounted for in the contract.
Florida Construction Law Attorney
A construction delay is a frustrating event that can prolong a construction project and cost you thousands of dollars. Protect your construction project and your money. Attorney Brendan A. Sweeney has years of experience advising on and drafting construction contracts. Do not agree to a contract that is not in your best interests. Contact us now for a consultation.
Resource:
law.cornell.edu/cfr/text/48/52.249-14