ARBITRATION IN FLORIDA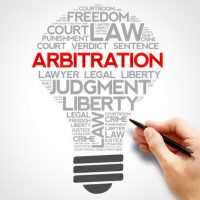 Arbitration is a form of alternative dispute resolution in which the dispute will be heard by a certified, neutral arbitrator or tribunal of neutral arbitrators. Arbitrators will hear evidence from all parties involved in a relatively informal hearing, and they will then make a binding decision to resolve the case.
Arbitration is progressively being adopted and accepted in the construction industry as the standard for settling disputes due to views regarding the benefits of arbitration over litigation.
Chapter 682 of the Florida Statutes directs the state's Arbitration Code, and it grants authority to voluntary binding arbitration. On the whole, this means that if two or more parties in a dispute agreed to arbitrate any disputes in their contract, otherwise known as an Arbitration Agreement, then the courts will likely enforce mandatory arbitration if and when a dispute arises.
Arbitration has benefits and detriments much like any other form of dispute resolution. The most popular advantages of arbitration are speed and simplified procedures. Additionally, most proponents of arbitration agree that the ability to select your arbitrator aids in the fairness of the proceeding and since arbitration hearings do not take place in open court and are not part of the public record there is a higher degree of confidentiality.
The disadvantages to arbitration is that it is generally more expensive than litigation, the finality of the decision, the looser rules regarding evidence, and the inability to issue subpoenas.
Regarding the finality of the decision, it can be difficult to overturn an arbitrator's decision. Generally, an arbitrator's decision will only be overturned based on corruption or fraud. A legal error made by the arbitrator or counsel will not qualify you for an appeal when it comes to arbitration, as it would in litigation. Although arbitration by statute, specifically Florida Statute 44.104, does provide that an arbitration award can be appealed to state circuit court but no further.
The right or mandate to arbitrate dispute can be included in contracts or agreement and also can be waived. Cases decided under the Florida Arbitration Code state that acts inconsistent with an intent to arbitrate may indeed constitute a waiver of arbitration. Florida courts have also held that the party claiming the right has been waived needs to also demonstrate that they would be prejudiced by having to proceed with arbitration. In Santander Consumer USA Inc. v. Muszynski, 2014 WL 2765218 (Fla.Cir.Ct.), a case handled by Brendan A. Sweeney, Esq., LL.M., wherein he successfully represented subprime automobile lender in an appeal of the trial court's non-final order which denied Santander Consumer USA, Inc.'s motion to compel arbitration and dismiss the action.
Additionally, arbitration can be used as a tool to eliminate class action lawsuits. Many agreements include provisions that provide that arbitration is the only dispute resolution available to the agreements parties. However, courts have held that class actin prohibitions can be voided if they are unconscionable. For instance, in Powertel, Inc. v. Bexley, 743 So. 2d 570 (Bankr. Fla. App. 1999) a Florida appellate court stated:
The arbitration clause also effectively removes Powertel's exposure to any remedy that could be pursued on behalf of a class of consumers…. Class litigation provides the most economically feasible remedy for the kind of claim that has been asserted here…. By requiring arbitration of all claims, Powertel has precluded the possibility that a group of its customers might join together to seek relief that would be impractical for any of them to obtain alone.
Overall, arbitration has many pros and cons and overall has its own complex system of resolving disputes, but it is a commonly used mechanism and arbitration agreements can be widely found on contracts of all sorts.
Sweeney Law, P.A. Has Vast Experience in Handling Arbitration Matters
Brendan A. Sweeney, Esq., LL.M., of Sweeney Law, P.A., a boutique firm in Fort Lauderdale, Florida, regularly handles complex arbitration matters throughout Florida. Brendan A. Sweeney, Esq., LL.M. is an AV Preeminent Martindale Rated Attorney, that has been recognized as a Florida Super Lawyer in 2019, Florida Legal Elite in 2019, and as a Florida Super Lawyer Rising Star in 2018, 2017, 2016, 2015, and 2014. If you have any questions and/or issues regarding arbitration matters contact Sweeney Law, P.A. at (954) 440-3993 immediately to protect your rights.
www.sweeneylawpa.com.