Trade Secrets In Your Construction Business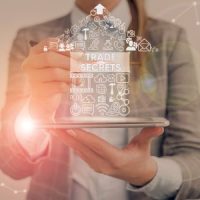 Take a minute and think of all the things that you have developed through the years in your construction business. All the processes, procedures, and the "how to's" of your business.
Who are your preferred vendors? What processes do you use to get a construction process going? What agreements do you use with vendors or subcontractors? Do you have any "tricks of the trade" that you have developed over the years?
Trade Secret Protection
All of this potentially has protection from other people seeing it and using it. In the construction industry, with so many moving parts, contracts, vendors, or ways to get the job done, it's important that you understand how to keep others from stealing and using your processes and procedures.
All of these things are called trade secrets under Florida law.
To be considered a trade secret, your device, methods, processes, or the way you do things, must have an independent economic value. That means, someone else would pay for the information or knowledge, or someone else could make a profit off of using your information or knowledge.
The trade secrets cannot be ascertainable by the general public. For example, if you simply pour concrete the way everybody else in the world pours concrete, there is no trade secret there. But if you mix it a certain way, for a certain amount of time, or you have developed some process, then it may be protectable.
Note that you don't have to invent something totally new, or something that you could patent, in order for something to be a trade secret. It just has to be something that the public could not easily discover on their own.
Protection Matters
Lastly—and most importantly—you have to show that you treat the information as a trade secret. In other words—if you don't care if someone else takes or uses your information, the law won't care either.
This is why you should include language in your contracts that indicates that something is a trade secret. Or, if you are hiring employees or contractors, language that says that the information the employee or contractor is exposed to, cannot be shared or disseminated.
Using passwords on computers, or logging who has access to certain information, can also demonstrate a commitment to keeping information secret.
Although nobody likes lawsuits, you may need to take legal action in the event you find something you consider to be a trade secret, to be stolen, or to be used without your permission. This will demonstrate your commitment to protecting your trade secrets.
If someone does steal your trade secrets, you may have a right to damages, but just as importantly, you can ask the court for an injunction, to stop the dissemination of your secret information.
Our Fort Lauderdale construction law attorneys at Sweeney Law P.A. at 954 440-3993 are here to help with all of your legal problems, or to help protect your construction business.
Resource:
leg.state.fl.us/statutes/index.cfm?App_mode=Display_Statute&URL=0600-0699/0688/0688.html